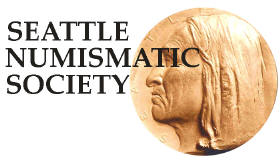 Seattle Numismatic Society
SNS is a non-profit corporation registered in the State of Washington.
Address: Seattle Numismatic Society c/o Scott Loos, PO Box 2210, North Bend, WA 98045, Ph. 425-831-8789.










For other coin shows and numismatic events in the Pacific Northwest, see the PNNA calendar.
Hours and Location:
Beginning in April 2019, the club began meeting on the second Thursday of each month.
Regular club meetings: 6:30 PM to 8:30 PM. (Room opens at 6:00 PM.)

Meeting location:

Angelo's Restaurant banquet room, 601 SW 153rd St, Burien, WA. Phone: 206-244-3555.

Previous meeting location (currently not available):

Room B at the Tukwila Community Center, 12424 42nd Ave S, Tukwila, WA.
Keep in mind that events may occasionally be subject to changes or cancellations. Regional and national events are listed for the convenience of members who may wish to attend these events. See the linked websites for more information and updates, and make your travel plans well in advance.
Contact club president Rick Schulz for more information about these club events, and see the president's message or the club newsletter.
SNS Calendar

Date
Event
Meeting Topics
2022 (Regular Meetings, or online via Zoom)
Note: As always, the monthly displays can also feature new acquisitions or Pacific Northwest.
We are looking for programs. If you have an idea for a program please let Rick Schulz know about it.
AUG 11
In-person meeting at 6:30 p.m.
Location: Angelo's Restaurant banquet room, 601 SW 153rd St, Burien, WA. Phone: 206-244-3555.
Table topic: Transportation.
Speaker topic: to be announced.
SEP 8
In-person meeting at 6:30 p.m.
Location: Angelo's Restaurant banquet room, 601 SW 153rd St, Burien, WA. Phone: 206-244-3555.
Table topic: to be announced.
Speaker topic: to be announced.
TBA
Virtual club meeting via Zoom
Additional Zoom meetings will be held if needed, or we may also conduct "hybrid" in-person/Zoom meetings.
2022 (Special Events)
SEP 2-25 closed Tuesdays
Washington State (Puyallup) Fair
Numismatic booth in the Hobby Hall, Puyallup, WA - PNNA Fair webpage.
Return to SNS home page