Back to Seattle Coin Club!
The SNS decided to resume using the name "Seattle Coin Club," originally one of the two clubs which merged in 2003. This change took effect in January 2023, 20 years after the SNS was formed. The website will remain the same for now, however, you can begin using the new domain name, seattlecoinclub.org, which will automatically forward to this website. (Updated 1/30/2023.)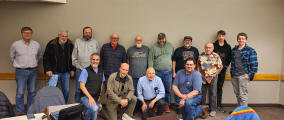 Photo: Members present at the inaugural meeting on January 12, 2023, of the newly renamed Seattle Coin Club (SCC). The SCC was founded in 1936, but became the Seattle Numismatic Society (SNS) from 2003 to 2022. (Click on photo to enlarge.)
Seattle and University Coin Clubs Merge
See the SNS Merger page. This merger took place in 2003.
Meeting Date & Location
The SCC has returned to in-person meetings at the Tukwila Community Center, still on the second Thursday of each month!
New meeting location: Tukwila Community Center, 12424 42nd Ave S, Tukwila, WA. The meeting time is now from 6:00 to 8:00 p.m., due to staff shortages and early closing on most weeknights. Also see the calendar page, and mark your calendar accordingly.
Previous meeting location (Dec. 2021 to Aug. 2022): Angelo's Restaurant banquet room, Burien, WA. The second Thursday of each month was the regular meeting day, with meetings starting at 6:30 p.m.
The club returned to year-round meetings, effective November-December 2019. There may be an off-site banquet, usually each February (but not in 2019-2022). Banquet information can be found on the banquet page.
Club Officers / Contacts
The current club officers and contacts are listed on the officers page. Also see the club president's message.
Membership / Bylaws
Although many of our members are experienced collectors, beginners are encouraged to join the SCC and participate in all of our club activities. Click on the "Memberships" button for more information.
See the SCC/SNS bylaws. | See previous SCC/SNS news headlines.