Seattle and University Coin Clubs Merge
The Seattle Coin Club and the University Coin Club elected to merge in January 2003 to form the Seattle Numismatic Society (SNS). Both clubs had a final meeting and holiday party in December 2002 before the merger.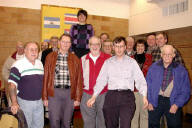 Members and guests present at the inaugural meeting of the Seattle Numismatic Society on Thursday, January 16, 2003. (Click on photo to enlarge.)
The Seattle Coin Club was founded in 1936, and the University Coin Club was founded in 1960. Although the UCC met near the University of Washington, it was not affiliated with the university. The merged club is a member of the American Numismatic Association, with the Seattle club's old membership number, C-5592.
Meeting Date & Location
The SNS has resumed having in-person meetings!
Meeting date and location (effective Dec. 2021): Angelo's Restaurant banquet room, 601 SW 153rd St, Burien, WA. Phone: 206-244-3555. The second Thursday of each month is the regular meeting day, and meetings now start at 6:30 p.m. Please see the calendar page, and mark your calendar accordingly.
Previous meeting location (currently not available): Room B at the Tukwila Community Center, 12424 42nd Ave S, Tukwila, WA. The meeting time was 7:00 p.m., with the room opening at 6:00 p.m.
The club returned to year-round meetings, effective November-December 2019. There may be an off-site banquet, usually each February (but not in 2019-2022). Banquet information can be found on the banquet page.
Club Officers / Contacts
Initial officers of the new club were selected at the January 16, 2003 regular meeting. The current club officers and contacts are listed on the officers page. Also see the club president's message.
Membership / Bylaws
Although many of our members are experienced collectors, beginners are encouraged to join the SNS and participate in all of our club activities. Click on the "Memberships" button for more information.
See the Seattle Numismatic Society bylaws. | See previous SNS news headlines.